You may have heard it before, but I will say it again.  It may be time that you…..
with Origami Owl.
The holidays are here. People are going to be in the shopping mood for gifts – you yourself is looking for the perfect gift to others – and you may just be the right person to fill your – and their – gift giving wishes.
Have you considered sharing the love of Origami Owl?  Here are 5 reasons why you should consider joining our team this season: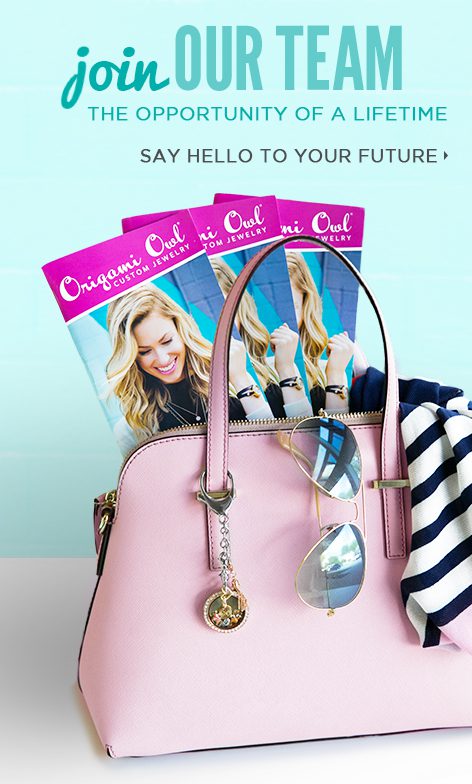 Origami Owl is brand new and only less than 4 years old. That means a wide open field of selling for you. It may look like "everyone" cows about this company because "everyone" is online but all the time, I meet people who have never heard or never have seen Origami Owl offline and in person.  It is true that many have yet to hear about this amazing company that lets each person customize a living locket unique to the giver AND the receiver.
Origami Owl has the best in quality and in price. Our goal is to give you the best quality from us while at the best possible price for you. There are other lockets out there that attempt to lure with their low prices.  When they do catch your eye, do take a close look at what they are offering. Origami Owl awaits you.
Origami Owl allows you to make money sharing what you love. I love seeing the eyes light up as people create their lockets will all the Origami Owl pieces that tell their story.  I love hearing how such a small gift can make such a great impact on someone's dark world.  I love being a part of the stories that customers and friends share with each locket they give and receive.  I love that all this good allows me to make money as well. 30% – 50% commission on every piece of jewelry sold to customers at retail goes to your pocket! And as an Ind. Designer, you get everything you want at 30 – 50% off retail.
Origami Owl is unveiling more exclusives this season than ever before. Halloween-themed jewelry will not only have exclusive charms this year but have a plate to be the perfect backdrop to your Halloween locket.  Thanksgiving charms and plate will rekindle great customs, stories, and eats that we've come to know as part of Thanksgiving Day.  Holiday charms to celebrate Hanukah and Christmas will also make its debut with new charms and pieces sure to delight your holiday look this season.  Make sure to stay tuned for all the things to come. There is so much sparkle and excitement in the air with Origami Owl.  If it doesn't get you to join us this season, nothing else will.
Origami Owl is so much more than jewelry.  Not only does it help the lives of Ind. Designers with the cash they need but the existence of the company help lives way beyond its Ind. Designers.  For example, wherever the company goes, Origami Owl gives back to a charity or non-profit organization in that area. When they were here in San Diego, I helped coordinate with reaching Hidden Treasures, an organization set to help women receive the much needed necessities and basics of life after being rescued from human trafficking and sexual exploitation.  They truly believe in leaving a place better than they came in and to always being a force for good.  When you join Origami Owl, you are a part of this good.
Join today and start your story, your journey, and partnering with a force for good.
I look forward to connecting with you.  Of course you have questions.  I look forward to answering them for you. You can reach me at jennylou@locketsandcharms.com.
If you have no questions, you can sign up right here —–>>>>>Origami Owl Custom Jewelry | Join Our Team