Thanks goodness for football (and family)!
Gather around the TV and then carve up the turkey wearing one festive look that says "I love football" this fall.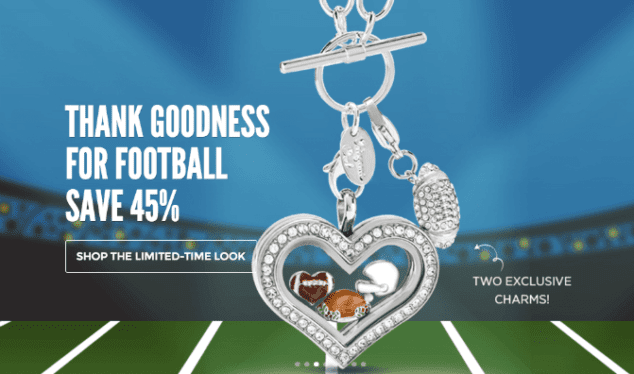 Have this exclusive look for just $49 USD | $59 CAD and save $40 USD (that's 45% off!) on this limited-time look, available November 17 at Noon CT to while supplies last!
These looks retail for $89 USD | $114 CAD! Featuring our Medium Silver Heart Living Locket® with Crystals on a 16″ Toggle Chain; two exclusive Charms, the Football Heart Charm and Turkey Dinner Charm, along with the Football Helmet Charm, and a Pavé Football Dangle, this is perfect for the football fan or someone who loves fun holiday gatherings.
Our lockets open and close so that you can include additional Charms to capture what you love most about this time of year.
Please note, the Thank Goodness for Football Locket cannot be added to Jewelry Bar Guest order, but you can add it through my Personal Web Page and attach it to a Jewelry Bar using your Jewelry Bar Code.