Dearest Gift Card (Certificate) Recipient,
Here is a special post regarding your paper or digital Origami Owl Gift Certificate purchased with me, Jennylou Raya, Origami Owl Independent Designer #1186:
Your Gift Certificate looks something like this: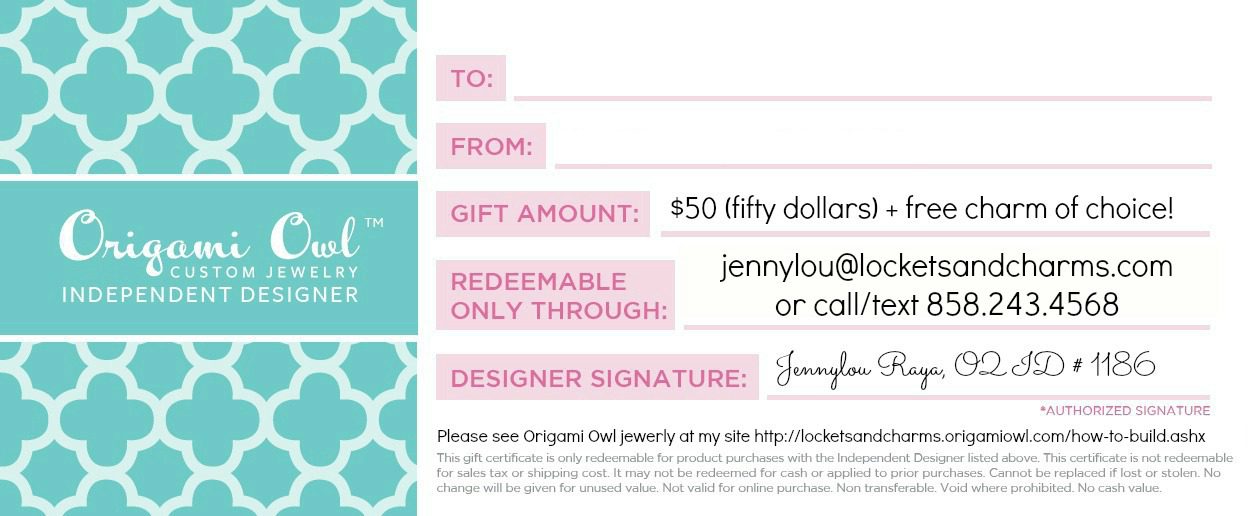 You may email or call to redeem your certificate
jennylou@locketsandcharms.com
.
Simply have on hand your Gift Certificate.  On one of the corners, you will see a Transaction ID or a Receipt #. Please have this info in addition to TO, FROM and amount purchased.  I will need this information to cross reference with what I have on file.
***
Taxes and shipping do apply as per local and state laws and is determined by the shipping address for your jewelry.
Taxes is for the retail value of the order, before GC and free charm(s) are applied.  For example, if the jewerly order is $60 and the GC is for $50 + a free charm ($5 value), $55 will be applied to the order but the retail tax is not only on the $5 but on the $60.
***
Origami Owl's shipping and handling fee is $5.95 for $100 and below in retail (prior to tax and shipping) and $7.95 for orders above $100.  The ordering system complies with tax laws and the following states will tax shipping as well: AL AR CO CT FL GA HI IN KS KY LA MI MN MO MS NC ND NE NJ NM NV NY OH PA RI SC SD TN TX VT WA WI WV WY
***
If your order exceeds the gift certificate amount you received, you may pay the difference.  I am able to send an invoice for the remaining balance.  Once the balance is fulfilled, the order will be placed and processed by Origami Owl Headquarters.
Gift certificate recipients, please contact me to place your order.  Do not place and pay for an order online as I will not be able to redirect, reimburse or personally refund your order.  The O2 Code box or Jewelry Bar Code box at check out is not for these gift certificates. 
As of right now, the only way send and redeem Origami Owl GC's is through the involvement of an Origami Owl Ind. Designer. In this case, with GC's purchased through me, I will be personally placing the orders for recipients after the initial contact and letting me know what items they would like with their GC.
***
If you are wanting to reach me after hours or prefer placing your order with me via email, please copy/screenshot your shopping cart and send it to 
jennylou@locketsandcharms.com
with a mailing address so I can calculate totals.
If you have already gone to my website at
locketsandcharms.origamiowl.com
 and created a customer profile, I can complete the order process for you.  Supply the email and PW for me to go in and apply the $ amount of the GC as payment.   Again, if your order exceeds the amount of your CG,  an invoice will be sent to you prior to finalizing and turning in your order to Origami Owl. Once payment for outstanding balance is received, the Origami Owl order will be completed and turned in for processing to Origami Owl the company.
Please allow 5-7 business days to receive your Origami Owl Creation.  If Inscriptions aree part of the order, please allow 7 – 10 business days to receive it.
***
All this may sound a bit complicated but I assure you, all will go smoothly.
I look forward to hearing from you and thank you for the opportunity to serve you.
Sincerely,
Jennylou & Serg Raya Origami Owl Independent Designer #1186