Yes, you read it right! April 23, Origami Owl will be gifting you a $59 value FREE gift with your purchase of $79 in Origami Owl jewelry!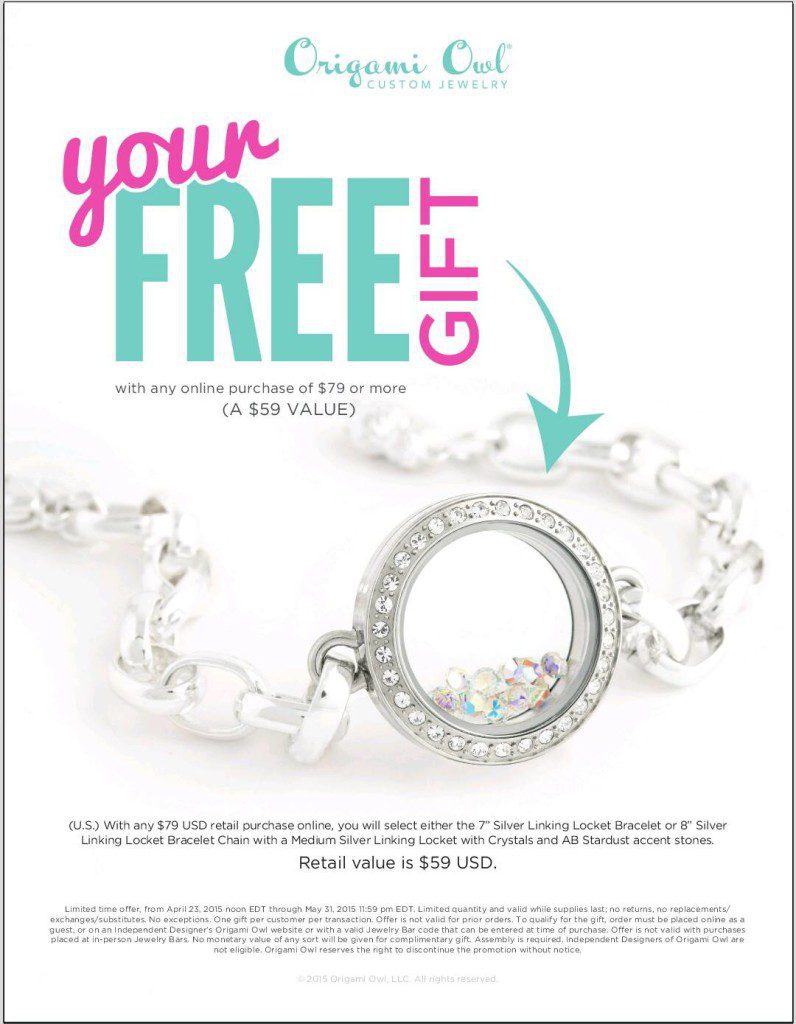 If you have seen specials and gift-with-purchase from Origami Owl before, you know that they go real fast even though they have LOTS of inventory!  The demand almost always exceed supply.
This  Special is set for April 23 – May 31, 2015 but please note that fine print of 'WHILE SUPPLIES LASTS.'
How do you take advantage of this special?
According to the flyer:  Order must be placed online as a guest, or on an Independent Designer's Origami Owl website, or with a valid Jewelry Bar code that can be entered at the time of purchase.  Offer is not valid with purchases placed at an in-person Jewelry Bars. (This means, to take advantage of this offer, your orders must be placed online).
When you enter your order of $79 (before tax and shipping) from any Ind. Designer's website or at OrigamiOwl.com, a drop down will be available for you to add it to your cart.  Make your payment, add your Jewelry Bar code if applicable, and check out. You will select either the 7″ Silver Linking Locket Bracelet or 8″ Silver Linking Locket Bracelet with a Medium Silver Twist Linking Locket with crystals and Stardust accent stones. Retail value is $59 USD.
If you would like to count your Origami Owl purchase towards me and earn a commission with your $79+ order, I would be forever grateful! My Origami Owl site is http://locketsandcharms.origamiowl.com =)  I do have an active Jewelry Bar code to enter after the payment screen and that is number 15265.  Click to verify that the Jewelry Bar is for 'Locketandcharm's Jewelry Bar.'
Limited time offer, from April 23, 2015 noon (EDT) through May 31, 2015 11:59 p.m. (EDT). Limited quantity and valid while supplies last; no returns, no replacements/exchanges/substitutes. No exceptions. One gift per customer per transaction. Offer is not valid for prior orders.
If you have any questions, please do not hesitate to email me at locketsandcharms@gmail.com.  You can even send me at text at 858-243-4568.
Happy Shopping!!!
Email Newsletter on the promotion http://bit.ly/1Dnw6a7