UPDATED: 5 PIECE WATCH BUNDLE OFFER ENDED AUGUST 31, 2015 11:59 CST.
WATCH LOVERS, UNITE! TIME IS OF THE ESSENCE, SO WE'VE MADE IT EASY FOR YOU TO SWITCH THINGS UP WHEN IT COMES TO ONE OF YOUR FAVORITE ACCESSORIES—THE WATCH!
INTRODUCING THE NOW IS RIGHT ON TIME BUNDLE WHERE YOU CAN CREATE FOUR DIFFERENT WATCH LOOKS THAT ARE SOME OF OUR FAVORITES THIS SEASON,
FOR JUST $99 USD | $119 CAD – RETAIL VALUE $120 USD | $145 CAD.
What is it?
It is not just any watch. True to Origami Owl, the watch was created to be customizable to your liking.
Take time for what matters most with a versatile new Signature Twist Watch Base that pairs perfectly with Inscriptions Sliders, Large Twist Locket Faces, Expression Frames and Leather Wraps. Add a new Pavé Slider to your look in black or silver for extra sparkle. See all the watch possibilities here https://locketsandcharms.origamiowl.com/shop/categories/watches
If you're like me and love a great deal or you simply can't decide where to start, Origami Owl has unveiled a sweet deal just for you: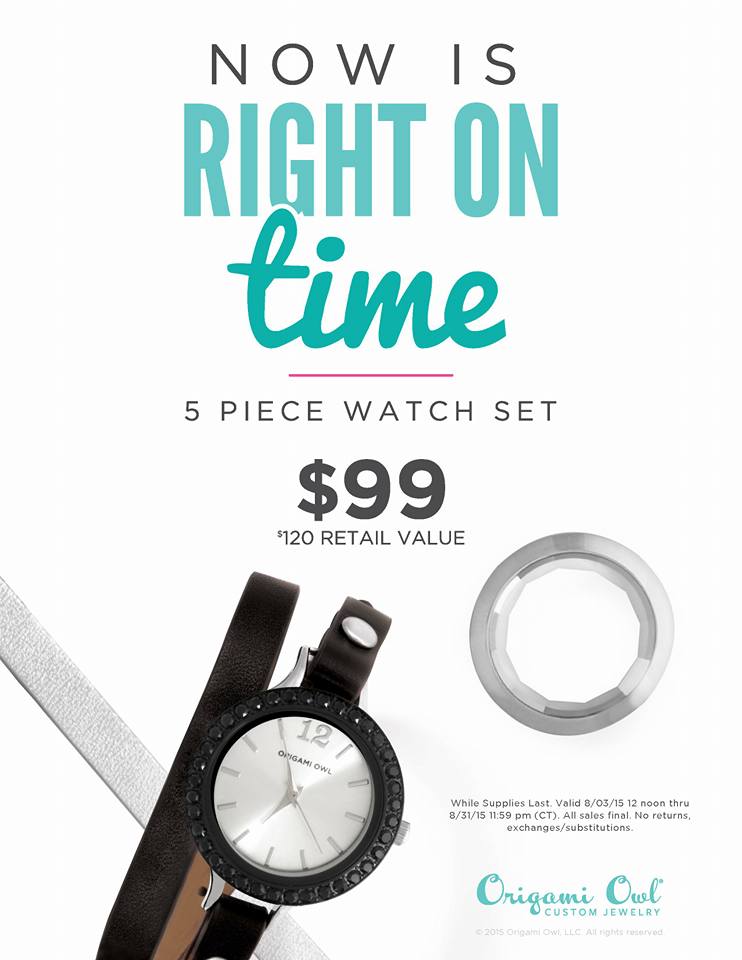 The Now is Right on Time 5-Piece Set is available to customers starting Monday, August 3 at noon and is available to customers until August 31 at 11:59 p.m. Central time.
It includes a Watch Base and 2 preselected Large Twist Faces and Leather Wraps so you can create 4 different watch looks. More specifically…
 Large Black Locket Face with Jet Crystals
 Large Silver Prism Locket Face
 Black Genuine Leather Wrap (6"-71/4")
 Metallic Silver Genuine Leather Wrap (6"-71/4")
See Kate show you how to create a watch to your liking. The possibilities are truly endless. Watch this:
Got questions?  Email me at jennylou@locketsandcharms.com or text me 858.243.4568 and I will get back to you as soon as I can.