It's my 5 YEAR Anniversary with Origami Owl!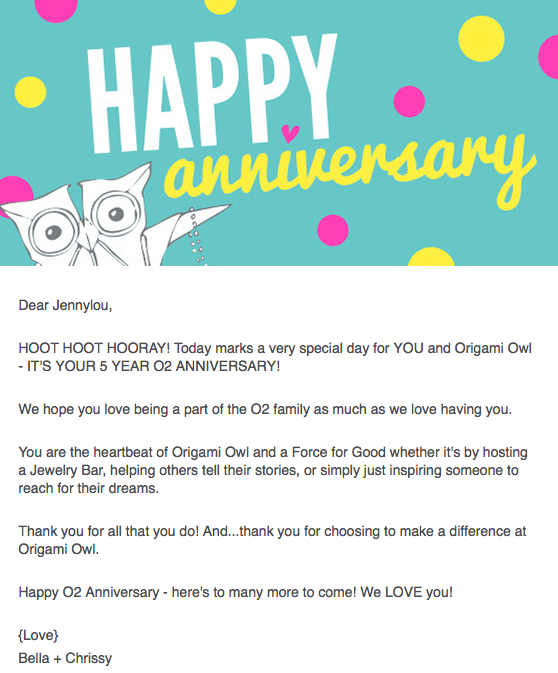 Dearest friends and to my clients near and far,
For 5 years, you may have watched from the sidelines or have even helped me along the way with our Origami Owl business. This business has been a blessing to our family. When I started 5 years ago, today, I had no clue where this "locket thing" would take me. I just bought a kit on January 19, 2012 and said, "Let's see where this goes."
I paid attention and it was definitely more than hubby and I could imagine. It paid us back. We were able to pay the bills, purchase and pay off our van, pay off the other car, pay off all our credit cards, the business was the #1 factor in the approval and purchase of our home, be a tourist in our hometown of San Diego, and eat ungoldly amounts of food! All the while allowing me time to be home with the kids and homeschool them.
We've been fortunate, to say the least. 2018 brings us challenges but also the opportunity to achieve even more and new goals. At first, new goals were not even on my radar with a growing baby in the belly, the studies of my kids requiring more from me as their teacher, and with a recent and drastic change in hubby's work that had me shed more that a few tears, we remain hopeful for what is to come. With all this and a clear path in our finances to allocate every single penny that comes in our home to be used wisely, within biblical principles and in God's ministries (that means no waste and only needs from here on out), the tears turned to light and things that looked impossible actually has turned our eyes into seeing even more blessings in everything – literally, everything! Even with the hurdles before us, the year unfolding, hitting 5 years with Origami Owl, the dates to achieve goals getting closer, the promise of possibilities – not impossibilities – get more real and I feel like more is still achievable.
There are trips to be earned with Origami Owl. In 2015, hubby and I earned an Origami Owl all-expense paid trip for Leaders to the beaches in Naples, Florida. Trips or no trips, this is something we do to help ends meet.  Every penny is used wisely for our family and outside our 4 walls.
To be able to continue doing so, here is what you can do to help:
I. Consider purchasing a personalized item from me for the next birthday, holiday, Mother's Day, Teacher Appreciation Day or graduation.  Every locket helps and every smile from receiving a locket never hurt either.
II. Ever thought about starting your own locket business or have a young budding entrepreneur 12 and older? I'd love to share the opportunity with you! It isn't rocket science nor a mystery on how Origami Owl works. It is sales but along with that, they also get to learn the value and the ability to make and handle the money they earn.
III. Refer me! Have friends, family, church groups, band or sports groups looking to do a fundraiser or to earn extra money? In our 5 years, we have donated thousands we have earned ourselves back into local groups and in 2016 alone, Origami Owl has donated over $1million to organizations and individual families in need. You can see some of the stories at LiveSparkly.com. I would love to do more of this with you.
Thank you so much for your support! And if you read all the way to here, extra blessings to you. We truly appreciate you and looking forward to what God has in store for us in 2018!
<3 Jennylou + Raya Family