Our limited-time Live Sparkly™ promotion is now EXTENDED until Wednesday, November 16 at 11:59 P.M. CT or while supplies last. Grab this exclusive Live Sparkly look that is just $25 USD | $33 CAD and give it to the teacher, friend or other special person in your life a meaningful holiday gift. Origami Owl will donate $1 from each Locket to the Live Sparkly give back campaign! Plus, get FREE SHIPPING on all orders over $75 USD ($95 CAD) until Monday, November 21 at 11:59 P.M. CT. Shop now: http://locketsandcharms.origamiowl.com
---
We believe every story has a sparkle!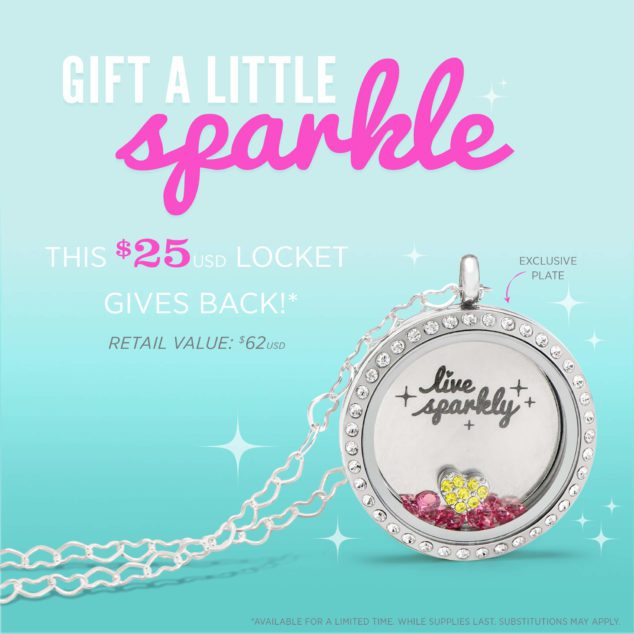 From November 11 at Noon CT through November 14 at 11:59 p.m. CT or while supplies last, purchase our exclusive Live Sparkly™ Share the Sparkle Locket and Origami Owl will donate $1 from each Locket sold to benefit the Live Sparkly give back campaign.  Shop this offer >>HERE<<

This special Locket is just $25 USD | $33 CAD and is valued at $62 USD | $80 CAD with 19 PV, available while supplies last.*

Plus, this Locket includes an exclusive Live Sparkly Inscriptions® Plate that has never been available before and is ONLY available with this limited-time offer!

The Live Sparkly Share the Sparkle Locket includes:
1 Exclusive Large Silver Live Sparkly Inscriptions® Plate
1 Large Silver Classic Living Locket® with Crystals
1 16″ Heart Chain
1 Rose Stardust Swarovski® Crystals
1 Silver Heart with Yellow Crystals Charm
*Please note, the Live Sparkly Share the Sparkle Locket cannot be added to Jewelry Bar Guest order, but you can add it through your Personal Web Page and attach it to a Jewelry Bar using the Jewelry Bar Code.
How the Live Sparkly Look Gives Back

Want to know who our Live Sparkly give back funds will benefit? You can vote for the person you feel deserves it! Visit LiveSparkly.com/Voting to read the four finalists' stories and vote for the story you believe should receive the money to help cover an important need. Voting is available once per day per person until November 14 at 11:59 p.m. CT.

You can also support this cause by purchasing our Live Sparkly Multi-Color Swarovski Stardust for $5 USD and help your locket sparkle all year long! One-hundred percent of the profits from this beautiful, unique Stardust benefits the campaign as well. 

Be a Force for Good and help us give back to a deserving person so they can get the sparkle back in their life.
Ready to shop?  This locket set is available here: https://locketsandcharms.origamiowl.com/shop/explore/featuredsets
Everything else Origami Owl, head on to https://locketsandcharms.origamiowl.com