Each day that my daughter grows is another day that she wants to be like mom, and with that comes the jewelry.  Today we wear and share lockets like these: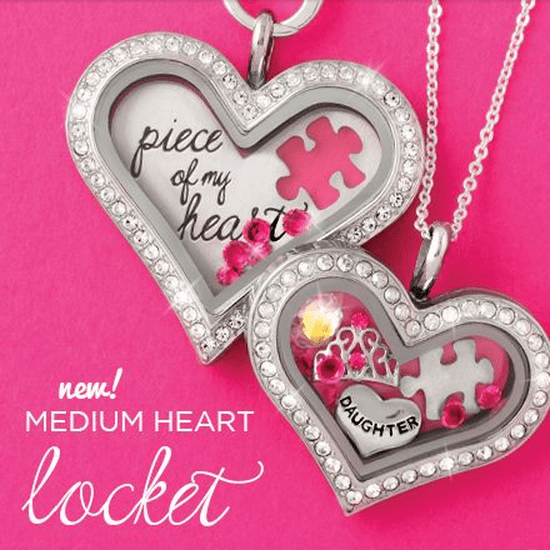 2 years ago for Valentines, Origami Owl released the Large Heart Living Locket.  A year after, they came out with the Medium Heart locket.  These 2 lockets became the perfect gift for women and girls to wear, no matter the age. Just like everything else, my daughter wanted one too just like my large locket that is part of my locket staples.  I can send her off to school and she will always feel connected by having a little pice of my heart.
I have received orders from men during the Mother's Day season purchase these 2 lockets together.  Maybe it was for his wife and daughter.  Maybe one for his wife and one for mom.  Whoever they went to, I am sure they loved the beautiful locket.  There is nothing  like it.  This locket was designed by Tyson Basha, cofounder of Origami Owl several years prior to its release to the public.  Every detail of it has been carefully planned out and executed.
Whether you are a dad, husband, or a mom who want to gift something to her special girl, consider an Origami Owl heart locket to symbolize how much you love her.
School will be starting for us next week and when I send her of the couple days to her charter, she will have this and remind her that she is pretty special.
***
Ready to get this look?
Remember everything is sold piece by piece.  Click on all the direct links to the exact items and add them to your shopping cart to get everything that you see pictured here.
Large Heart Locket, Piece of my Heart plate*, 1/2 the pack of Stardust in Fuchsia (5 crystals). The locket is attached to a Silver clap that can be paired nicely with any of our Origami Owl chains.  I recommend an 18″ inch chain or longer, due to the locket's size.
Medium Heart Locket, Crown charm, Silver daughter charm, a hex charm in Silk , a November Birthstone, and the other half of the Stardust Crystals in Fuchsia.  The chain here is a 16″ Sterling Cable chain.
***
Whoever the lucky recipient is to one or both of these lockets, my hope us that she loves it and know that you love her too.
Sincerely,
Jennylou Raya, Ind. Designer with o2 (ID #1186)
*To my customers, Piece of my Heart has been retired but I have a few on hand to complete the look if you are purchasing this look with me.