I joined Origami Owl for it beautiful products.  I loved ALL of it.  I quickly realized that in order to fund my new addiction, I needed to get this for less than retail.  I soon decided to join for the discount.  The bargain spender in me found it hard to pass up 30 – 50% off retail price for all the pieces I wanted for ME.
Shortly after joining and wearing my locket, more realizations came.  Just a couple of days of joining Origami Owl and even before my kit arrived, I had my first teammate.  Before her kit arrived, she was sharing her love of Origami Owl and her sales were crazy good.  It was not until that point that I thought I could make money off of this too.  And that is what I have been doing with Origami Owl the last 4 years since joining in January 2012.
I have grown a team nationwide.  It is work (money doesn't always come streaming towards me on it's own all the time) BUT what has kept me here even during the slow months is that reality that this job is the most flexible, return on effort, and the funnest of what I could be doing from home or even out there.
What makes this so fun is my team.  We laugh, cry, pray, love, and support each other.  My team have become my second family, my sisters, and my friends.  If you have ever thought of joining me on this journey but is still on the fence, consider this offer: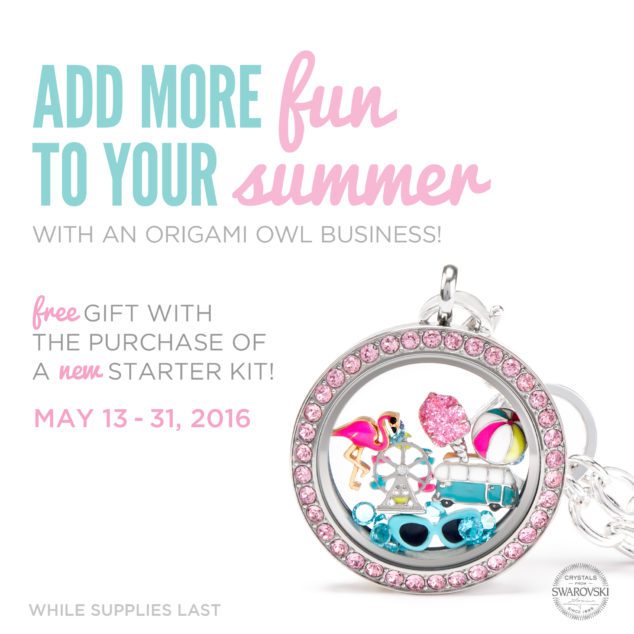 With a retail value of $91 USD | $119 CAD, I and any new Designer who joins my team will receive this Summer of Fun Living Locket® look when they join between Friday, May 13 and Tuesday, May 31, 2016 by purchasing an O2 Starter Kit.

Origami Owl is always more fun when done with others and will always be more fun when it's done with YOU!
Get that gorgeous locket with a Rose Face with Swarovski Crystals + Large Silver Base.  It also includes in it 2 new summer charms (ferris wheel and cotton candy) not yet available to anyone else.  All this for simply for signing up with 1 of 3 Origami Owl kits from now until May 31, 2016.
Once you have your kit – or even before – share your love of Origami Owl.  Make money for you summer activities, save up for trips and camps, or whatever your heart desires.  You can even make money of the go, wherever you go.  With a website to send you customers to, you don't have to lug everything to make money, share what is on your neck or your catalog and send them off to make a purchase online.   I love making my "fun-money" while I sleep, while out and about with family, and even on the spot with my catalogs on-the-go Jewelry Bar.  It's up to you how you do business, but whichever way you do it, do it having fun and with your family always first.  Let's do this!
I am so excited to invite and welcome you to Origami Owl.  You probably have questions about all this. You can ask them at jennylou@locketsandcharms.com.  You can even text me at 858 243 4568.  And if you are reading this in time, you can even watch Chrissy and Bella's o2 Meet & Greet and them sharing to you about the Origami Owl Opportunity at https://www.facebook.com/events/1573225702970021/?active_tab=posts
Take note, this offer is to run until May 31st but it is while supplies lasts.  Once the not-in-the-catalog Rose Swarovski Face and the Limited Edition charms are gone, they are gone!!!  Sign up today!