Origami Owl is helping support the cause of fighting against the effects of breast cancer. 100% of our net profit from the sale of the Courage Hope Strength Exclusive Jewelry Set will be donated to Face in the Mirror Foundation, an organization dedicated to providing hope, comfort, and emotional support to those undergoing breast cancer treatment.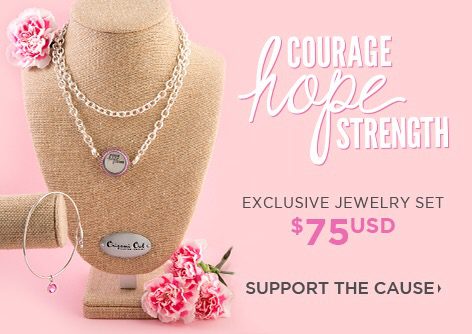 About the Force for Good set:
IT'S TIME TO SHOW SOME SUPPORT! RAISE AWARENESS WITH THIS EXCLUSIVE COURAGE HOPE STRENGTH JEWELRY SET AND YOU'LL BE AT THE FOREFRONT OF YOUR CAUSE. FEATURING THREE JEWELRY PIECES ONLY AVAILABLE FOR PURCHASE WITH THIS SET, YOU CAN GRAB THE EXCLUSIVE MEDIUM SILVER OVER-THE-HEART LOCKET WITH PINK CRYSTALS, A 30" SILVER OVER-THE-HEART CHAIN, THE EXCLUSIVE "HOPE" LIGHT ROSE SWAROVSKI AFFIRMATION CRYSTAL, THE SILVER RENEWAL TEARDROP BANGLE (7 ¼" or 8 ¼") AND THE EXCLUSIVE "COURAGE HOPE STRENGTH" MEDIUM SILVER ROUND PLATE.
Click here to learn more about the Promotional Details.
Have questions? Email me at jennylou@locketsandcharms.com