A couple of days ago, I posted on my sites and dropping clues about a butterfly.  This was one of them: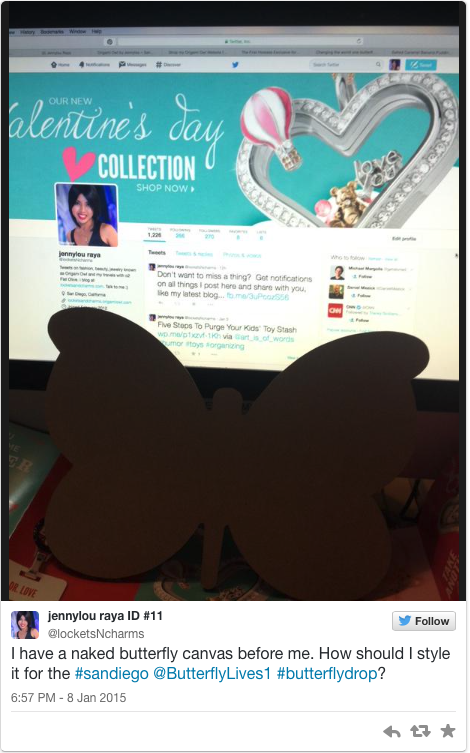 Today at SOAR 2015, the talked a little bit about this butterfly drop and how it will be taking place in 13 cities across the nation tomorrow.  And yes, San Diego is one of them. I have the butterfly to be dropped and found by you San Diego!
Read on and find out all the details!!!
HOW IT ALL BEGAN
"Be the change you want to see."
I love this quote, but it begs the question. "How?"
As a little girl my father nicknamed me "Butterfly," and I've loved these creatures ever since. For me butterflies represent hope, rebirth, faith, and love.
There is a book called "Miss Rumphius" that tells a story about leaving beauty where ever you go. I love this idea. But how to capture it for myself?
The butterfly effect was a theory presented by Edward Lorenz in 1963 to the New York Academy of Science stating "a butterfly can flap its wings and set molecules of air in motion, which would move other molecules of air, in turn moving more molecules of air-eventually capable of starting a hurricane on the other side of the planet."
I have a fledgling idea of how I want to be the change, and hopefully set into motion molecules of hope, that will set into motion molecules of faith, that will set into motion molecules of love.
I am privileged to get to travel all over the world. And as I travel I plan to drop butterflies in big cities and small towns, in hidden crevices and sunlit corners, on sandy beaches and in shady trees.
– Tasha Wahl
JENNYLOU WILL…
Just as Tasha has been doing, I will post a picture of the finished butterfly I will be dropping, in the morning. Then. I will post the part of San Diego it is in and the clues to the specific location where it can be found. The first to find the butterfly gets to keep it!
YOU WILL…
And here is where it gets fun. If you find the butterfly, follow the directions on the back. Email me, text me, or post the picture of you and the butterfly and share with me your contact information.
TASHA WILL….
She will then donate money to a charity or philanthropy of your choice in your name. The butterfly is yours, but the gift you give to someone else are the molecules of change that will bring hope, rebirth, faith and love to the world.
Together, we can Be the Change we want to see.
What's the catch?  There isn't one.  We are all here to do our part in being the change we want to see.   We only need to do our part.
Let's all say Yes! to Changing the World One Butterfly at a Time.
Who: YOU
What: GO FIND THAT BUTTERFLY!
Where: Somewhere in San Diego County – as south as Chula Vista and as north as Escondido.
When: between 9 – 11 am (once it is dropped on location, I will start posting the clues on how to find it.)
Why: To bless a charity or cause near and dear to your heart.
… and How?
I will be posting a picture of the butterfly on my following social media sites:
http://twitter.com/locketsncharms
http://facebook.com/locketsncharms
http://instagram.com/locketsncharms
With these clues, the butterfly is to be found.
***
You've found the butterfly drop, now what?
There will be a note attached to the butterfly and it reads,
"Congrats! You just found a Butterfly Drop! Welcome to the Butterfly Drop Tribe – an underground movement that strives to seek the courage to face adversity in ways that lessen, rather than add to the suffering of the world. We move in small unexpected ways, one butterfly at a time.   If you found a butterfly- you are now a participant in the movement! Welcome!
1-     Take the butterfly down- it's yours to keep as a memento of the movement
2-     Take a picture or quick 10 second video of you holding the butterfly and text to 858 248-0619 or email tashawahl@me.com
3-     Let us know what charity you would like us to donate to in your name. You pick the charity and we will donate $250.00 to the cause in your honor.
4-     Go to www.butterflyeffectbethechange.com to see who else is playing butterfly drop and what charities we've been honored to help.
Thanks for being the change you want to see in the world!
***
Last words from me:
I still have no idea where I will be doing the butterfly drop.  I have even a lesser idea of who will pick up the butterfly.  I await with you to see which cause or charity will be the recipient of $250 from Tasha. Thank you Tasha for being the change and letting all of us be a part of it with you!
Sincerely,
Jennylou Raya