When I came to America at the age of 5, I have never heard or seen baseball.  My first experience with baseball was a tune my little brother taught me – something about taking me out to a ball game – I'm sure you've heard it.  I didn't even have a clue back then what peanuts and Cracker Jacks were either.
I'm am glad to say that I now have a clue what baseball is.  It wasn't decades later that I realized that baseball is a very big deal and a major part of American culture.  My brother-in-law is very much into the LA Dodgers – like crazy.  He just posted pictures from Dodger's Stadium in LA with his dad and his kids a week or two ago.  His son is very much into baseball to and we've even watched several of his son's games when we are over there visiting.
About the Origami Owl Major League Baseball licensed charms:
Last season, Origami Owl released official licensed MLB charms to go into our Origami Owl lockets and bracelets but it kind of left someone out more than half of its fanbase – the guys!   This year, I am excited to share with you that our guys (and gals) can share their love of baseball and their team through Inscription tags.  These tags are lazer-engraved with their favorite team's logo and can be worn by anyone.  Pair it with a locket or wear alone.  See the options and looks available by clicking on the links below. These pictures are for ideas and inspiration. You can't do much changing with the engraved dog tags but remember, with the lockets, you can always add and take away charms and switch out the chains, plates, and locket faces and bases to make it exactly how you want it.  Need help or have a question about creating a baseball theme tag or locket? Email me at jennylou@locketsandcharms.com or text me at 858 243 4568.
And because I am from San Diego, let me share with you the look inspired by our local team, the San Diego Padres.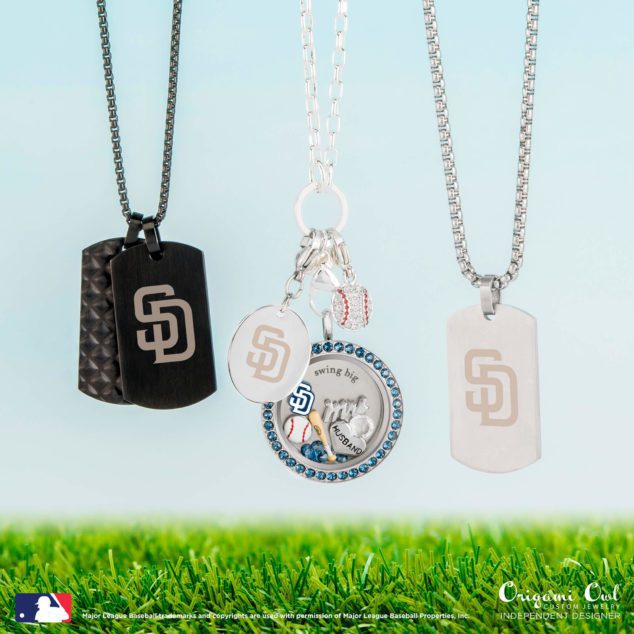 •    New MLB™ His + Hers Looks
•    Arizona Diamondbacks
•    Atlanta Braves
•    Baltimore Orioles
•    Boston Red Sox
•    Chicago Cubs
•    Chicago White Sox
•    Cincinnati Reds
•    Cleveland Indians
•    Colorado Rockies
•    Detroit Tigers
•    Houston Astros
•    Kansas City Royals
•    LA Angels of Anaheim
•    Los Angeles Dodgers
•    Miami Marlins
•    Milwaukee Brewers
•    Minnesota Twins
•    New York Mets
•    New York Yankees
•    Oakland Athletics
•    Philadelphia Phillies
•    Pittsburgh Pirates
•    San Diego Padres
•    San Francisco Giants
•    Seattle Mariners
•    St. Louis Cardinals
•    Tampa Bay Rays
•    Texas Rangers
•    Toronto Blue Jays
•    Washington Nationals
These charms become available May 18, 2013 on my replicated site at http://loccketsandcharms.origamiowl.com