SPIRIT" HERITAGE LOCKET SET | BULLYING PREVENTION FORCE FOR GOOD $34.00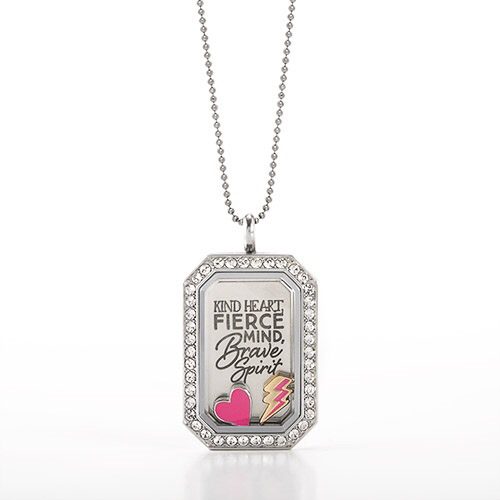 Be bold and take a stand against bullying with our beautiful Silver "Kind Heart, Fierce Mind, Brave Spirit" Heritage Living Locket® Set, featuring an exclusive inscribed Silver Heritage Plate. This limited-time, exclusive look is an elegant and impactful way to encourage, educate and spread prevention awareness in our schools, neighborhoods and communities.
For every Locket look purchased, Origami Owl® will donate $1 to benefit the Childhelp® Speak Up Be Safe Program in the United States and Bullying Canada, Canada's first youth-created anti-bullying organization that provides support, resources and information to prevent violence and keep children safe.

THIS SET INCLUDES THE FOLLOWING PIECES:
Silver Heritage Living Locket
16″ Faceted Ball Chain
Silver "Kind Heart, Fierce Mind, Brave Spirit" Heritage Plate
Pink Lightning Bolt Charm
Red + Pink Heart Charmoji
PRODUCT INFORMATION
Substitutions may apply; While supplies last
Retail value: $77 USD | $99 CAD
SKU: SP2103